The new AW189 Coastguard helicopter and the trial Coastguard Jetstream aircraft came through their 'water baptism' yesterday after participating in 'Exercise Top Cover' – a co-ordinated, joint training exercise with the Yarmouth RNLI to test the search and rescue capabilities of the two new aircraft off the Isle of Wight coast.
To make the exercise as realistic as possible, one of the RNLI training vessels from Poole pretended they had a fire on board and made a MAYDAY call to the UK Coastguard without giving its exact location.  They also released a flare to indicate they were in distress.  As the Coastguard Jetstream was being put to the test to locate the vessel, the new AW189 Coastguard helicopter was also sent to the area, in readiness to rescue those on board the vessel.   Another RNLI vessel was sent to the location to support the joint aircraft rescue mission.
Capable of carrying up to 16 people and four crew, the new AW189 has a cruising speed of 145 knots, a range of 200 nautical miles and an endurance of over four hours.  It is also equipped with the latest mission management system including HD FLIR, automated search and target acquisition systems, medical data transmission, radar, GPS, AIS and full night vision capabilities, as well as icing protection system, a medical suite and a full communications suite including HF and Satcomms. Over the next two years the AW189 will be introduced into Coastguard bases across the UK for its search and rescue missions – the first being at Lee-on-Solent in April 2017.
The AW189 crew included Captain Iain Cuthbertson, Co-Pilot Laura Hearnshaw, Winch Operator Ritchie Waterton and Winchman Paramedic Alistair Drummond.
Captain Cuthbertson said: 'This was our first joint training exercise out of the Coastguard's Lee-On-Solent Search and Rescue base which we will assume responsibility for in April. It was a very useful exercise and a fantastic experience working alongside Coastguard 41 for the first time. We worked well as a team and the aircraft handled superbly.'

The Captain of the trial Coastguard Jetstream 41 aircraft, said: 'The Jetstream 41 aircraft is the ideal platform for long range searches and its endurance was vital within this exercise and also for future patrols. The fixed-wing aircraft is quick and provides a top cover overview to help direct and coordinate the various agencies in a search and rescue situation.'
Jonathan Mustard, duty aeronautical controller for the UK Coastguard said: 'This training exercise was a great opportunity to test ourselves and the capabilities of the two new aircraft working together.  Even though the weather conditions were fine, we were able to successfully locate a stricken vessel and perform a simulated extraction of casualties.  There were more than 30 people involved in this exercise and I think that everyone would agree that it's given us an excellent opportunity to put our assets to the test in their new environment.'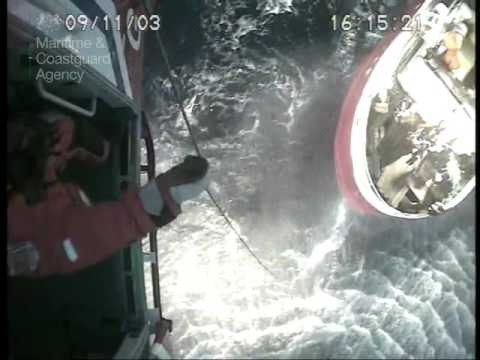 The UK Coastguard has released details about a 'life or death' search and rescue helicopter mission to rescue an unwell…