A British crew member on the Clipper Round the World Yacht Race is being evacuated to Shanghai after suffering a suspected fractured arm during a violent storm.
Trudi Bubb, 50, from Crawley, was injured when her team's yacht, Unicef, fell off a wave during extreme weather in the Yellow Sea and she fell below decks in the galley area earlier today.
It was a tumultuous night with the fleet experiencing some of the worst conditions of the entire 40,000 nautical mile circumnavigation so far.  Gusting winds of 70 to 80 knots tested the 12 'novice' teams, with extended periods at 55 to 60 knots and a very rough, steep sea state.
The team is approximately 120 nautical miles south east of Shanghai and has an ETA of 0100 UTC tomorrow. On arrival into Shanghai, Trudi will be transferred to hospital for x-rays and evaluation of her injury, after which the team will resume racing onto the Race Finish in Qingdao, China.
The injury comes 11 days after Trudi joined the yacht in Da Nang, Vietnam, having signed up for the final four legs of the eight-leg round the world race.
Race director Justin Taylor said: 'Next of kin have been informed and further updates will be announced as we have them. We wish Trudi a fast and full recovery.'
Unicef relief Skipper Paul Atwood had described the conditions in his blog earlier in the day: 'Slamming, driving rain, the steady 50-60 knots breeze peaking at a gust of 92 knots, the air full of horizontal spray, waves filling the cockpit…

'Last night was a tad hectic, very windy, very bouncy and saw us go around in circles as we attempted and succeeded in one evolution after another, each of which take 10 – 15 minutes in the Solent, or Sydney harbour, but which, last night were taking 60 – 90 minutes each.

'Nevertheless we have emerged slightly worse for wear but intact and are making our way north as best we can with the uncooperative wind angle. The sea state has improved a lot although the waves are pretty big and still foam streaked,' Paul added.
The yacht's Skipper and on board medic have had advice from doctors at the race's remote telemedicine service, ClipperTelemed+, which is staffed by doctors from the race's Global Medical Emergency Support Partner, PRAXES.
The Clipper 2015-16 Round the World Yacht Race, the 10th edition of the biennial global series, is the world's longest ocean race at more than 40,000 miles, taking 11 months to race between six continents.
It is currently the eighth stage of a 14-race global series, from Da Nang, Vietnam, to Qingdao, China.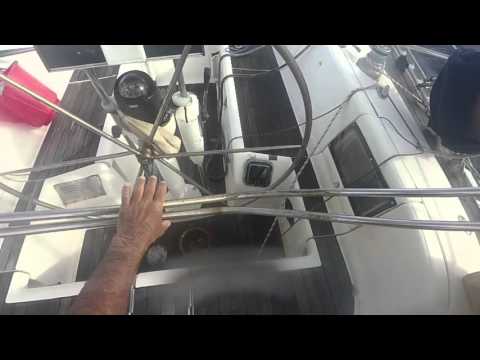 A Clipper Race team statement about their LMAX Exchange race yacht's initial discovery of deceased German sailor Manfred Bajorat