David Harding and the crew of the Mystery 35 Agatha braved a wintry Force 6 to bring you their top tips for man-overboard rescue
In past issues of PBO we have looked at what happens when someone goes overboard: how to get back to the spot, keep the victim alongside and get him or her back on deck. Watch our video series here.
But we still wanted to know what it's like in nasty conditions – so we headed out on a cold, grey, wet and windy day in January. While a Force 6 against the tide in the Solent isn't quite the same as a mid-Channel gale, the exercise still taught us a good deal.
Our boat was a Mystery 35, Agatha, owned and skippered by Charlie Close-Smith and with a crew that included Lance Garrard, an experienced sailor and ex-lifeboatman. Sticky Stapylton of Arrow Yacht Enterprises was overseeing operations and Adam Wilson of Aquasafe Powerboat School provided a RIB as a photography and safety boat.
The hove-to approach
Our first approach was one that Charlie and Lance had worked out following earlier experiences of heaving to as soon as the man went overboard and trying to drift straight back to him. Charlie had found this didn't work because, by the time the boat had tacked and hove to, it had gone back too far the way it had come and left the casualty well astern. This time they continued several boat-lengths before heaving to and then drifting back.
Even when hove to, Agatha continued to make gentle headway – to fore-reach – as do most boats. Her direction and speed could be controlled to a certain extent by the position of the helm and the trim of the sails. It took a little practice, but eventually Charlie and the crew managed to judge their approach and effect a recovery. Having got back to the casualty (Adam Wilson's 'Dead Fred' dummy), their main problem was slowing the boat down enough to secure him. Fore-reaching at a couple of knots might feel very gentle, but it's hard to hold on to someone in the water at that sort of speed.
Practising to see how much you can control your direction and then slow down when hove to is a very worthwhile exercise.
 Getting him back aboard
 Mainsail only
Given the difficulties of getting the boat to stop when hove to, Charlie, Lance and Sticky furl away the headsail and try an alternative approach under mainsail only
Under Power
If your engine is working and you have checked for lines over the side that might foul the prop (and lines on deck that might be washed over the side), there's no reason why you shouldn't use the engine to get back to the casualty – as described last month as part of the RYA technique. Once you have furled or dropped the headsail and positioned the boat downwind, the approach is made into the wind – but not directly into it.
It's best to approach with the casualty on the leeward bow, so the bow isn't likely to be pushed the wrong way by the wind and/or waves at the last second when the boat slows down. If you're directly head to wind on the final approach, this can easily happen. It's also less intimidating for the casualty – and safer – to see the boat heading slightly upwind rather than to see a stem crashing up and down through the waves pointing directly at him or her.
Assisted Recovery
Because of Agatha's low freeboard, the crew were able to lean over the side and attach the hook on the lifting tackle to Fred's lifejacket. That might not always be possible, however – and, as discussed in the March issue, there are times when it's preferable (or vital) to lift the casualty in a horizontal position. If he or she is unconscious or hypothermic, or the freeboard is too high for the crew to reach the water, there might be no option other than to send someone else over the side. That's not a decision to take lightly and there are times when it would be unwise to say the least. It should certainly not be considered unless at least two fit and competent people remain on board.
To see how it might work in this situation, Sticky went into the water as well to see if he could fasten webbing straps around Fred's back and legs that would allow him to be lifted horizontally. Sticky would then be recovered using the ring on his lifejacket – but it didn't quite go according to plan.
Practise makes perfect
Different types of boat exhibit different characteristics when manoeuvring under sail. Some almost stop when hove to; others continue to sail surprisingly fast and it might be hard to slow them down enough to effect a recovery. However your boat behaves, it's vital to have a method of keeping the victim alongside once you've got him there.
The most important points are to practise the recovery operation in its entirety in a variety of conditions, to test the equipment thoroughly and to learn how your boat handles. If you're normally two-handed, make sure that both you and your sailing partner can manoeuvre the boat and rig up the recovery system alone. One day a life might depend on it.
Here are some videos of various Man Overboard recovery methods: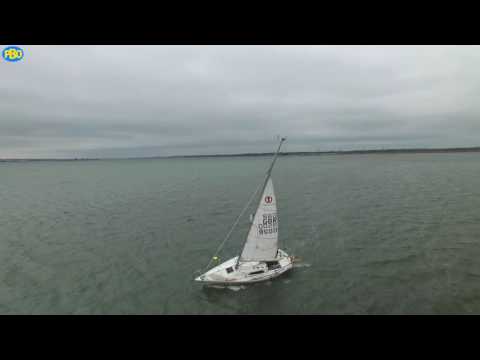 Using a lifesling to make contact with and recover a man overboard.