The Maritime & Coastguard Agency's new Head of Maritime Operations, Julie-Anne Wood, has made history by becoming the first woman to achieve this rank in the history of Her Majesty's Coastguard.
The role of Head of Maritime Operations heads up the National Maritime Operations Centre in Fareham and the 10 Coastguard Operations Centres that co-ordinate search and rescue around the UK coast. It is one of the most senior roles in HM Coastguard, part of the Maritime & Coastguard Agency, and up until now, the role has always been held by a man.
Julie-Anne Wood began her Coastguard career in the Welsh coastal town of Milford Haven in 1999 as a part-time Coastguard Watch Assistant. Before that, she ran her own business providing safety training to fishermen and merchant seamen in Wales. An opportunity for a permanent Coastguard Watch Assistant came up and in Julie-Anne's words, she 'never looked back'.
Over the next nine years, Julie-Anne progressed through the ranks to Watch Officer, Watch Manager and then Rescue Co-ordination Centre Manager in 2008. In 2011, her career changed direction, where she fulfilled her long-term goal to become a Coastguard Technical Trainer within the HR team. In 2013, she became head of Technical Training and Standards and in 2014 she temporarily covered the role of Head of Maritime Operations.  In January 2017, she was appointed to the position permanently.
Julie-Anne says she didn't set out to make HM Coastguard history. It was just a natural advancement of her career. 'It's a huge responsibility and a position that I'm very honoured to hold.  What may have once been a male-dominated industry is very different these days. The Maritime & Coastguard Agency has incorporated women in everything they do. In my experience, there have been no restrictions.  I have never allowed my gender to get in the way of my career – that's one of the great things about HM Coastguard – the only limits on women are those that are imposed by themselves.

'I am fortunate to be surrounded by an extraordinary team of strong women and men who are driven, talented and deliver an incredible service 24 hours a day. '
Despite her success, Julie-Anne has said that her proudest moments are still engrained in bringing people home to their families. 'Every rescue is different, but the feeling you get when we've rescued someone in their darkest hours still makes a huge impression on me emotionally. There is no better feeling than seeing families reunited and know that you've played a part in that.'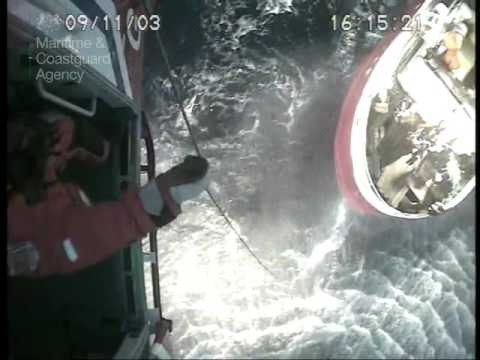 The UK Coastguard has released details about a 'life or death' search and rescue helicopter mission to rescue an unwell…