Ben Meakins discovers the importance of wearing the appropriate personal protective equipment (PPE) when antifouling a hull – and issues some propitious advice
Unless you've shelled out for a multi-season boat-bottom finish such as Coppercoat or a foul-release coating, the chances are that you'll soon be part of the merry band of boat owners traipsing down to the chandlery to buy this year's tin of antifouling.
However, by their very nature antifoulings are unpleasant, toxic substances which can cause harm and health issues if you're not careful.
The British Coatings Federation, the trade body for paint manufacturers, warned last year that encroaching environmental and health legislation meant that antifouling paints in their current form could become marked for professional use only unless it could be proved that DIY users were using the paints responsibly and safely.
This is due to the incoming Biocidal Product Regulation (BPR), EU-wide legislation that covers the manufacture and sale of products containing bioicides. Although it's possible that the effect of this on the UK will alter with Brexit, the global nature of the antifouling market makes it unlikely, so here's the status quo.
Antifouling products have historically been regulated in the UK for many years under the COPR (Control of Pesticides Regulations), which required a dossier to be submitted to the UK Health and Safety Executive (HSE) for approval ahead of going on sale.
However, the Biocidal Product Regulation will require all active ingredients to be re-authorised in the UK. Under these rules, it's assumed that no PPE is worn and that the user is, essentially, naked when applying the paint – a worst-case scenario, and one that brands antifoulings as extremely toxic.
The industry therefore has to prove that DIY boat owners are better educated than the typical consumer, and the BCF commissioned a survey to which nearly 3,000 boat owners responded.
The results concluded that 97% of DIY painters use gloves, 93% wear overalls, 92% use eye protection, 74% wear face masks and 62% wear boots – and the report concluded that most DIY applicators know the hazards and are using correct PPE, especially gloves.
That's reassuring – but in the interests of ensuring that we get to use effective antifoulings for the foreseeable future, and so that we can demonstrate that we boat owners are a responsible lot, here's a quick guide to applying antifoulings safely.
PPE
Here's PBO's paint expert Richard Jerram, suited up and ready to get painting.
He writes: 'Ideally, paper disposable overalls with a hood attachment are the most sensible type to wear. Next, you require protection for your hands in the form of disposable gloves. Rubber kitchen Marigolds work just as well – but you might want to avoid pink if macho men are called in to help!

'A face mask can also be used should you find the smell of the product uncomfortable or if you are working in a confined space.

'Finally, you'll need protection for the most sensitive and easily damaged parts of your body – your eyes. A pair of British Standard-approved safety spectacles or goggles are required. All of the above mentioned safety products are normally available from your local chandlery or DIY store, and will be fairly inexpensive.'
Applying the paint safely
Avoid ingestion: Food and drink shouldn't be prepared or consumed where paint is stored or is being used. In cases of paint ingestion, seek immediate medical attention. DO NOT induce vomiting.
Avoid inhalation: The inhalation of solvent vapour from paint or dust from sanding can be reduced by adequate ventilation or extraction. If this is not sufficient, or if specifically stated on the label, respiratory protection should be used. Wear a cartridge-type respirator when abrading old antifoulings with wet and dry paper – never burn off or dry-sand antifouling as this may create harmful fumes or dust.
In badly-ventilated areas, wear an air-fed hood or cartridge respirator with organic vapour filter. Solvent fumes are heavier than air: breathing these fumes can make you dizzy and could even result in collapse. Read the label carefully and ensure that the recommended protection is worn.
Avoid eye contact: Eye protection should be used during application. Safety glasses or goggles are inexpensive and are well worth wearing. Use eyewear that complies with British Standard 2092. If material contaminates the eyes, flush with clean, fresh water for at least 15 minutes, holding the eyelids apart. Seek medical attention.
Avoid skin contact: You should always wear protective gloves and protective clothing when applying or mixing any paint products. Overalls, which cover the body, arms and legs, should be worn. Skin cream, of a non-greasy barrier type, may be used on the face. DO NOT use petroleum jelly as this can help the absorption of paint into the body. Remove rings and watch straps before starting work, as
these can trap paint particles next to the skin. Remove any paint that does get onto the skin by washing with warm water and soap or an approved skin cleanser. After washing, apply a skin conditioner. Never use solvent or thinners to clean the skin.
The risk of fire or explosion
Most paints contain organic solvents, some of which evaporate into the air upon opening the container. Any dangers can be reduced if a few simple precautions are taken:
Avoid naked flames where paint is being stored, opened or applied.
Do not smoke.
Store paint in a well-ventilated, dry place away from sources of heat and direct sunlight.
Keep the tin tightly closed.
Avoid sparks from metals, electrical appliances being switched on and off, or faulty electrical connections.
Do not leave paint-soaked rags lying around, in overall pockets or in waste bins. Some types of paint can dry out and auto-ignite.
Antifouling paint product regulations set to change significantly over the next few years
20 antifouling paints tested in 13 UK locations: which works best where you keep your boat?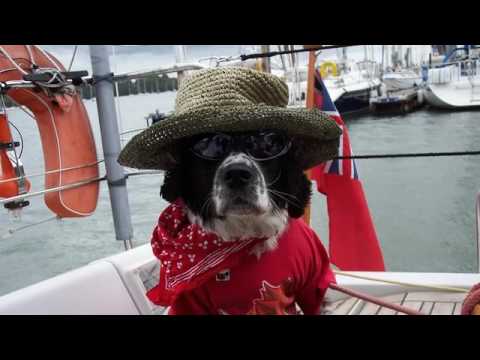 The British Coatings Federation Antifouling Your Boat Safely video features health and safety advice plus practical tips for people using…
Do's and don'ts
The British Coatings Federation has issued this guide to safely applying antifouling.
DO:
Choose appropriate location
Read labels and literature
Follow marina and boatyard rules
Wear all recommended PPE
Keep PPE on until the end of application
Capture all debris and scrapings
Keep dust to a minimum
Use wet sanding techniques
Thoroughly clean up afterwards
Use suitable tools
Wash skin with warm soapy water or approved cleaners
Dispose of all waste responsibly
DON'T:
Antifoul in a public place
Allow bystanders
Spray antifouling paint
Eat, drink or smoke
Remove PPE prematurely
Use heat to remove paint
Create dry paint dust
Use dry sanding
Allow waste to escape
Reuse PPE (except goggles)
Use solvents or thinners to wash paint splashes off skin
Pour waste paint down drains