Royal Yachting Association (RYA) Racing will have an experienced new hand at the helm with the announcement that Ian Walker MBE is to take up the Director of Racing position this autumn.
The double Olympic medallist, America's Cup sailor and Volvo Ocean Race-winning skipper will take up the baton from John Derbyshire OBE, who is set to retire later this year after 32 years' involvement with the organisation, including 16 years in the Director of Racing role.
Walker has enjoyed an impressive and multi-faceted career in the sport, winning two Olympic silver medals (470 in 1996; Star in 2000) and coaching Shirley Robertson, Sarah Ayton and Sarah Webb to Yngling gold at Athens 2004.
Among a host of inshore and offshore racing successes, Walker has been involved with two America's Cup campaigns (GBR Challenge in 2003; +39 in 2007) and won the 2014/15 edition of the Volvo Ocean Race with Abu Dhabi Ocean Racing.
A trustee of the John Merricks Sailing Trust, set up in memory of his 470 crew, he has also helped provide a supporting hand to numerous young people through the sport of sailing.
As Director of Racing, a position he will take over full time from October, Walker will oversee the RYA's World Class Programme and talent pathways, as well as the broader remit of racing participation in all its forms in the UK.
'Having achieved more than I could have ever dreamed of in a sailing career spanning over 30 years, I have decided that the time is right to take on a new challenge,' the 47-year-old explained.

'Being the RYA Director of Racing will give me the opportunity to take a leading role in British sailing and to be able to give something back to the sport that has given me so many fantastic life experiences.

'I am very excited at the prospect of helping the British Sailing Team again in their Olympic quest but, just as importantly, at helping young sailors, the clubs and the volunteers that are the lifeblood of our sport.

'I am sure I will miss the thrill of competition but on a personal level I am looking forward to spending more time with my family and to sailing for fun at my club again.'
RYA CEO Sarah Treseder said: 'We're delighted to be welcoming Ian to the RYA family.  A world-renowned sailor and outstanding leader, his breadth and depth of experience of the sport will be of huge benefit to the UK racing community.
'His remit is a wide but exciting one – supporting medal-winning performances on the world stage, including Tokyo 2020, and at the same time inspiring future participants, volunteers, coaches and champions to ensure a thriving UK club racing scene.
'I've no doubt Ian will make an exceptional contribution and build on the fantastic work which John has presided over during his many years of valued service to the RYA.'
UK Sport Director of Performance Chelsea Warr added: 'Ian was the outstanding candidate for the role and the unanimous choice of the panel.  He understands what it takes to win at the highest level and has the mindset, experience, leadership and management skills to build on the incredible success of the sailing programme to date.
'I am very much looking forward to working with Ian in his new role. He will not only inject a wealth of new skills and talents into the sailing World Class Programme but also to the wider high performance system.

'I would also like to pay tribute to John Derbyshire who will retire later this year as the Director of Racing following 32 years' involvement with high performance sailing at the RYA, and Stephen Park who will step down as Olympic Manager after over 20 years of involvement with the British Sailing Team. Their incredible dedication and expertise has guided the GB Sailing Programme to unprecedented heights, culminating in reaching top of the medal table in Rio and being the leading sailing nation across this and previous cycles.'
Walker added: 'I'd like to thank the RYA and UK Sport for their confidence in me.  John Derbyshire has provided a tough act to follow and I look forward to the benefit of his experience and that of the wider RYA Racing team in the coming months before I take up the reins full time in the autumn.'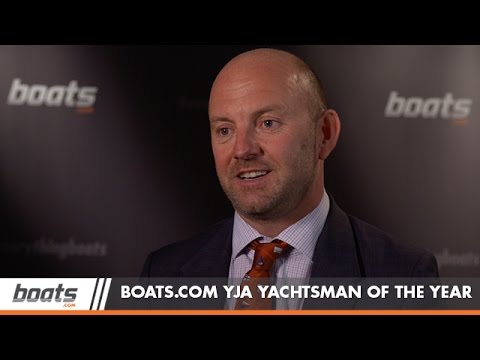 Boating cartoonist Mike Peyton, Volvo Ocean Race skipper Ian Walker and young sailor Eleanor Poole were celebrated at the YJA…