Olympic Finn class gold medallist Giles Scott, Round the Island Race record setter Brian Thompson, and Clipper Race crewman Gavin Reid, have been shortlisted for the 2016 boats.com YJA Yachtsman of the Year award.
Finalists for the Young Sailor of the Year award are 15-year-old 2016 Topper world champion Elliott Kuzyk, 18-year-olds Tom Darling and Crispin Beaumont, bronze medalists at the 2016 29er World Championships, and powerboat racer Thomas Mantripp, 15, who won this year's GP RYA British GT15 and British Sprint Championship titles.
The winners of these British achievement awards will be announced at a gala luncheon on Tuesday, January 10, 2017 at Trinity House, London following a vote among members of the Yachting Journalists' Association (YJA).
boats.com YJA Yachtsman of the Year finalists
Giles Scott from Portsmouth capped a remarkable three-year unbeaten record in the Finn single-hander dinghy class by winning gold at the Rio Olympics. In doing so, he also retained his Finn Gold Cup world champion title for the third successive year, and also played a significant role as bowman and tactician aboard Britain's LandRover BAR America's Cup challenge, which leads the Louis Vuitton America's Cup World Series going into the last event at Fukuoka, Japan on November 18.
Brian Thompson from Southampton, one of Britain's leading multihull skippers, stormed around the Isle of Wight to break this year's JP Morgan Round the Island Race record, completing the 50-mile distance in two hours 23 minutes 23 seconds in the MOD 70 trimaran Phaedo 3.  Then in August, Thompson and his eight-strong Phaedo 3 crew repeated the performance to break the outright record with a time of two hours, four minutes 14 seconds – an average of 24.15 knots.
Gavin Reid from Cambridge, was crewing the Clipper Round the World race yacht Mission Performance when an SOS was picked up off the New South Wales coast of Australia from a yacht returning from the Sydney Hobart Race which had a crewman stuck at the top of the mast.
Mission Performance was competing in the Henri-Lloyd Hobart to Whitsunday's leg of the Clipper Race and was nearest to the stricken vessel. Gavin, aged 27, who is profoundly deaf and had zero sailing experience prior to signing up for the Clipper Race, volunteered to swim between the two yachts and found four other crew onboard all incapacitated and unable to help their crewmate who had been tangled in halyards at the top of the mast for several hours.
Using the one remaining staysail halyard, he was able to hoist himself two thirds of the way up the swinging mast, then climbed the rest of the way hand-over-hand to reach the crewman, untangle the lines and help to lower him down safely.
boats.com YJA Young Sailor of the Year finalists
Thomas Mantripp, 15, from Lowestoft, won this year's GP RYA British powerboat GT15 and British Sprint Championship titles. He also secured a bronze medal at this year's GT15 UIM European championships, and competing in his first full season in the GT30 class, also collected double bronze in this division too.
Elliott Kuzyk, 15, from Parkestone Yacht Club won this year's Topper class World championship. In Ireland, Elliott eventually took the title after a seven-way battle for top spot. He also broke UK regional records by winning the Topper national championships for an impressive fifth year in a row.
Racing duo, Tom Darling, 18, from Kettering and Crispin Beaumont, 18, from Halesowen, finished third in a 200-strong fleet at this year's 29er World championship in Medemblik, Holland, the first British pair to gain a medal in this very competitive class since 2008. The pair also won the 2016 British youth and national championships, and will be representing Britain at the 2016 Youth World championships in Auckland, New Zealand in December.
Ian Atkins, President of boats.com, said: 'The open nominations process for these two Awards highlighted the number of exceptional achievements that we have witnessed in 2016. Creating a shortlist of just three nominees for each category is never easy. We already look forward to announcing the YJA's winner in January 2017.'
About the awards
Established in 1955 by Sir Max Aitken, Battle of Britain pilot, chairman of Express Newspapers and himself a leading yachtsman in both sail and power, the Yachtsman of the Year Award is now established as one of the top yachting honours.
Previous winners of the Award include Sir Robin Knox-Johnston, Dame Ellen MacArthur and four-time Olympic gold medallist Sir Ben Ainslie. The Young Sailor of the Year Award was first awarded in 1993.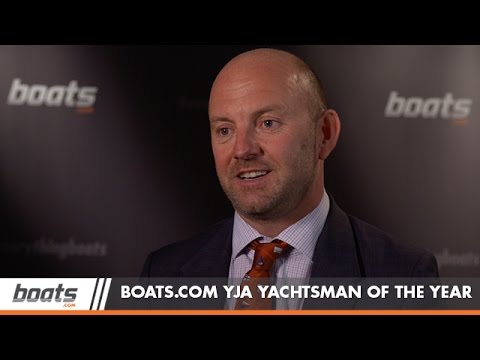 Boating cartoonist Mike Peyton, Volvo Ocean Race skipper Ian Walker and young sailor Eleanor Poole were celebrated at the YJA…