Police in Cornwall have issued a reminder to motorists to ensure towed items are properly secured after a yacht was abandoned for several hours after falling from a trailer.
The 35ft cruiser was discovered in the dark on a narrow lane, near Falmouth.
In a post on the Falmouth and Helston Police Facebook page, PCSO Crowther, of Falmouth Police said: 'Last night officers found by chance this abandoned 35ft yacht that had fallen off its trailer due to not being properly secured.

'The driver had left the scene for a number of hours without reporting it to the police so the yacht and trailer were left in complete darkness for some time on a narrow lane. This presented a serious danger for road users and subsequently could have caused a collision.

'This incident serves as a reminder to motorists that intend to carry large loads to use suitable equipment to secure the load. It also reminds those that are involved in a collision on the road that it is an offence to leave the scene of an RTC without reporting it, under the Road Traffic act 1988.'
Tow the line; make sure your boat is safe
The Driver and Vehicle Standards Agency (DVSA) has launched a new campaign highlighting the importance of trailer safety.
The initiative follows the tragic death of three year-old Freddie Hussey, from Bristol, who was killed in 2014 when a two-tonne trailer uncoupled from a Land Rover and careered on to the pavement.
For vehicle users towing boats DVSA has produced a quick and simple online guide accompanied with short video to help people check they are towing their boats safely. The campaign is also targeting anyone towing small trailers, caravans and horse boxes.
Transport Minister, Andrew Jones, said: 'I was shocked and saddened by the death of three year-old Freddie Hussey – it is absolutely essential that drivers carry out a few quick and simple checks to make sure their trailer is safe, so we do not see a repeat of this awful tragedy. This campaign will help drivers to make sure they are towing safely and will save lives in the process.'

DVSA Chief Executive, Gareth Llewellyn, said: 'DVSA first priority is to protect the public and help you stay safe on Britain's roads. It's your responsibility to ensure equipment is fitted to your vehicle correctly and used safely. There is no excuse for not being informed.
'Even a short journey with an insecure or unroadworthy trailer puts lives at risk, as the death of three-year-old Freddie Hussey tragically shows.'
To make sure your using a trailer safely you need to:
make sure the brakes are working correctly
check that the lights are undamaged and working correctly
check that the coupling height is correct
use a breakaway cable or secondary coupling
The campaign is also supported by representatives from National Trailer and Towing Association (NTTA) and the Society of Motor Manufacturers and Traders (SMMT).
NTTA Chief Executive Administrator, Larry Lambert, said: 'NTTA firmly believes that education is the key to stopping these events from happening again and our association fully supports this campaign.
'We urge all users to keep their trailers properly maintained and to allow sufficient time before each journey to carry out essential checks that will ensure that their towing experience is safe and legal at all times.'
SMMT Chief Executive, Mike Hawes, said: 'We welcome this important campaign, and urge all trailer users to follow the DVSA's simple steps to ensure their trailer is properly coupled so they can tow safely and avoid further tragic and preventable accidents.'
For information about the rules on towing a trailer, go to www.gov.uk/towing
For information about safety checks you should carry out, go to www.gov.uk/guidance/tow-a-trailer-with-a-car-safety-checks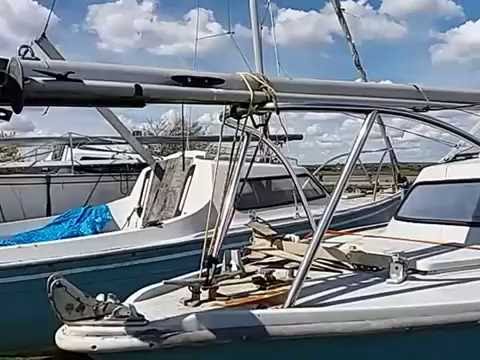 PHEW! In fact DOUBLE PHEW! Marlin's in the boat shed at last, writes Dave Selby sorts out his trailer and…