Practical Boat Owner magazine will once again be bringing a panel of marine industry experts to Beaulieu Boatjumble for a day of free practical talks and demonstrations.
Held on Sunday 24 April between 9.30am and 4pm, within the grounds of the beautiful Beaulieu Estate in Hampshire, Beaulieu Boatjumble is the largest event of its kind in the UK and annually attracts thousands of boaty bargain hunters.
Following the success of last year's inaugural PBO Ask the Experts LIVE! we will once again be hosting a large marquee close to the show's main gate, where visitors can enjoy free practical demonstrations and talks, plus the chance to quiz the experts with your boating questions.
This year, visitors will be able to learn top varnishing techniques from Kate Moss from International Paint, discover the tips and pitfalls of buying and selling boats with Paul Singer of British Marine South West.
West Epoxy (Wessex Resins) will be doing a practical demonstration on epoxy, Golden Arrow Marine will be holding a talk on engine maintenance, and RNLI community safety resources and development coordinator Mike Hannam will be hosting a lifejacket clinic.
David Wells from South Devon College will be demonstrating how tasty, inventive dishes can be prepared on just one or two gas burners in limited galley space, and PBO tester Alan Watson will be manning a stand to offer his considerable expertise about electronics on board.
Sika UK's technical services expert, Gareth Ross will be demonstrating how Sika's widely used range of sealants can be used for bonding and waterproofing on board.
Gareth said: 'I am delighted to be representing Sika once again at 'Ask the Experts Live'. Last year's event was a huge success for us and we enjoyed a very positive response from those that attended and a huge amount of interest in our products and how to correctly apply them. We look forward to providing another informative demonstration showing participants how to use Sika Marine products correctly and with confidence.'
Ask the Experts LIVE! builds on the success of Practical Boat Owner's Ask the Experts pages in the magazine, where our team of experts answer readers questions on a range of topics including sea safety; boat buying; cruising; sails; masts and rigs; survey and corrosion; electrics; engines; gas fittings; paint and antifouling; yacht design; toilets and plumbing; trailer-sailing; electronics; boatbuilding and wood.
A full schedule of demonstrations and talks and an online facility to register your interest in this year's PBO Ask the Experts LIVE! event, which is free of charge for Beaulieu Boatjumble ticketholders, will be announced shortly.
For further information about Beaulieu Boat Jumble visit www.beaulieu.co.uk/events/boatjumble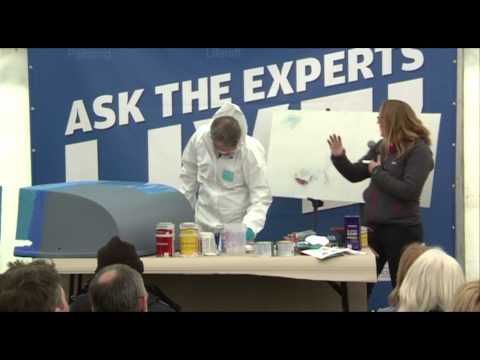 Experts from International Paint show you how to roll on and tip off paint to get a mirror shine on…