The volunteer crew from Macduff lifeboat were paged at 2.35am this morning, 2 June, to assist a single-handed sailor whose sail had got caught around his yacht's rudder.
The four-man lifeboat crew had to use radar and VHF direction finding to locate the Blue Pegasus about two miles off Whitehills, north east Scotland. The sea state was moderate with swells of up to 5 meters.
Macduff lifeboat requested the assistance of Buckie Lifeboat to act as a brake during the tow in to harbour due to the Blue Pegasus having a sail around her rudder and the sea swell.
Initial attempts to take the yacht to Whitehills Marina were aborted due to low tide at 04.01am and the sea state.
The casualty vessel was instead towed to Macduff Harbour where it was secured and the lone crew member was taken in to the care of the local Coastguard team.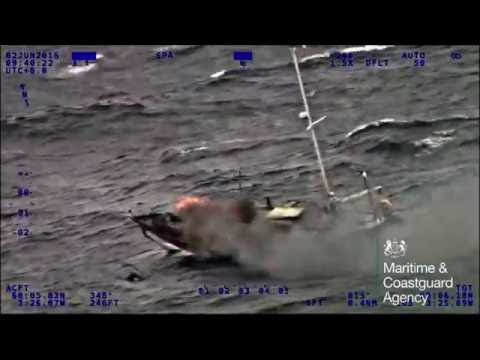 Nine people have been rescued off the coast of Shetland after their yacht caught fire.