A Dutch warship joined RNLI lifeboat volunteers to rescue a stricken 300ft cargo vessel that was drifting close to the North Devon coast amid rough seas and force eight gales.
The charity's lifeboat volunteers from Padstow and Appledore spent more than 24 hours at sea amid high winds and big swells helping to keep cargo ship the Verity and its seven-strong crew safe.
The stricken vessel was carrying 3,000 tons of scrap metal. The ship's engine failed four miles off Hartland Point.
With support from the Appledore RNLI crew, Padstow lifeboat established a tow to the ship at 9am on Friday, which later parted but the crew managed to re-join. The tow was maintained until 2pm when Dutch Frigate HNLMS De Ruyter arrived on scene at the request of the Coastguard to manage the tow.
The disabled cargo ship had requested the assistance of a tug, which would be coming from Holyhead but was not due to arrive until the early hours of Saturday morning.
Due to the rough sea conditions, the Dutch Warship, escorted by Padstow lifeboat began the slow tow towards Lundy Island, a more sheltered location to await a tug boat.
Appledore lifeboat left to return to Clovelly for a full crew change, assisted by the Clovelly RNLI inshore lifeboat. Appledore then returned to the scene and continued to escort the Dutch Warship and tow towards the sheltered waters on the east side of Lundy Island. Padstow crew were stood down and returned safely to the station at 9.30pm.
The sea going tug Bremin Fighter arrived at approximately 4am Saturday morning and set off with Verity on tow by 5am, en route to Swansea for repairs.
Alan Tarby, Padstow RNLI coxswain said: 'It was excellent team work from the RNLI lifeboats and the skipper and crew from the Dutch Warship did an amazing job in difficult conditions.'

Mike Weston, Appledore RNLI deputy launching authority, said: 'We needed to make sure the cargo ship didn't drift into shore. She was a bit too close enough for comfort.

'It was a marathon job for both RNLI lifeboat crews who are all volunteers and who spent many hours in rough seas keeping the cargo ship safe. A very big swell and gale force winds provided tough conditions and along with the crew of the Dutch Warship, they showed a lot skill, grit and determination.

'The co-ordination between Falmouth Coastguard, the RNLI and the Dutch Navy was excellent. It was an example of tremendous teamwork.'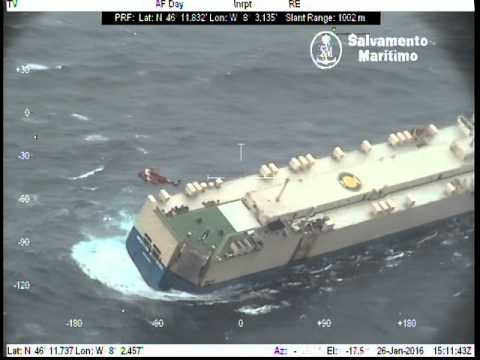 The UK Coastguard have co-ordinated the rescue of 22 crew from a merchant vessel in gale force weather conditions in…